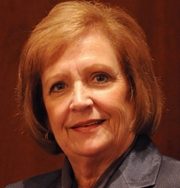 Norine Hammond, one of the top Republicans in the Illinois House wants to continue serving in Springfield.
Hammond confirmed to WGIL Monday that she plans to run for re-election in 2018 which would give her a fourth term if she's successful.
She serves on the consumer protection, human services, insurance: health and life and higher education committees.
In her last race Hammond received endorsements from U.S. Rep Darin LaHood, Macomb Mayor Mike Inman and the Illinois Chamber of Commerce to name a few.
WGIL plans on speaking with Hammond about her re-election bid soon, as this week she's busy with scheduled votes on education funding for K-12 schools.
John Curtis, a Macomb farmer and WIU professor has announced his 2018 candidacy and will likely challenge Hammond for the second election cycle.
Hammond defeated the Democrat Curtis in 2016 by about nine points.