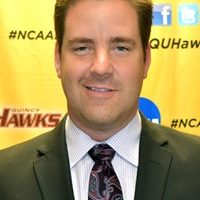 Ryan Hellenthal, a 1997 graduate of Galesburg High School, has been promoted from assistant coach to head coach of the Quincy University Hawks men's basketball program. 
Vice President of Intercollegiate Athletics and head coach Marty Bell handed the clipboard and whistle over to Hellenthal after spending 14 years as head coach at QU. 
Bell will be focusing on running the university's athletic department – a position he's held for the past 11 years. 
Hellenthal, meanwhile, has spent the past 16 years coaching at the NCAA Division I, Division II, and NJCAA Division I levels.
Before coming to QU last season, Hellenthal was an assistant coach at Central Missouri – which reached the NCAA tournament in 2015.
Hellenthal tells WGIL that by putting in the work, travelling the country, every assistant coach is, in a way, preparing to someday be a head coach.
"I think you always have in the back on your mind, you prepare each day to get that head coaching job and with the understanding that a lot of people go their whole careers and don't get that opportunity," Hellenthal says. "I'm very humbled by the long journey and been a lot of good stops along the way but the opportunity to head my own program and represent Quincy University. It's something that I'm very, very excited about."
Hellenthal was on the sidelines with Quincy last season when the Hawks made it to the 2nd round of the NCAA Tournament.