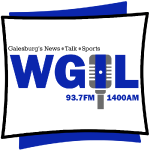 Led by members of the Galesburg NAACP and March On: Indivisible Knox County, area residents gathered on the Knox County Courthouse lawn Sunday for a candlelight vigil. 
The vigil was only one of over 130 candlelight vigils taking place across the nation – in regards to the violent, and deadly protests in Charlottesville, Virginia the day prior. Spear-headed by March On: Indivisible Knox County, word of a vigil spread quickly through local networks and social media. DeVone Eurales, President of the Galesburg NAACP, spoke during the vigil, and he told WGIL the vigil did what it was intended to do: bring people together against hate. "It was beautiful, people were coming out, sharing stories, showing acts of unity and above all, spreading love not hate."
Other speakers at the vigil included Jeremy Karlin representing Temple Sholom, and Reverend Tyson Parks of Allen Chapel A.M.E. Church among others. Eurales went on to say that sometimes, living in a somewhat rural community, it feels like we can sometimes feel divided. But going out, listening, talking, reaching out to others, and above all – getting involved is very important for everyone.