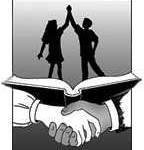 Several items were up for discussion and some approved at last night's District 205 Board of Education meeting.
One item that had been up for discussion before was the streaming or videotaping of board meetings for members of the public that could not be in attendance.
After last month's meeting, District Technology Curriculum and Professional Development Coordinator Matt Jacobson was tasked with looking into the costs, technical aspects and logistics of streaming board meetings online.
He presented the board with a proposal that included four options for streaming and broadcasting of the meetings: using a cell phone to stream HD video, using a 360 degree camera to stream 360 video, installation of equipment for audio and video streaming or broadcasting, and using Galesburg City Council chambers for board meetings for streaming and broadcasting on Comcast's public access channel.
Jacobson also listed advantages and disadvantages to each as well, citing audio quality problems with the cell phone and 360 camera options.
He proposed a pilot program of three of the options: cell phone, 360 camera, and utilizing Galesburg City Council chambers. Testing each one at each of the next three board meetings, before convening and deciding on which of the options would best suit the districts needs.
Board members had mixed reactions to the proposal. Board member Maury Lyon voiced his concerns regarding the image of board members sitting at the council's desks, to which board member Wayne Statham agreed.
Costs were another concern. The installation of professional equipment would cost upwards of $5,000 to using the city council chambers which Jacobson could not attach a number to.
In the end board members decided to table discussion.
The board also heard from Superintendent Dr. John Asplund who wanted to make members aware of an issue he was seeing with late payment of registration fees in the district.
Asplund said that because of late payments from parents, issues with students not being fully registered and even being bumped from schools were cropping up.
He suggested that reaching out to local schools to find out how much they charge for registration fees to see if Galesburg was charging too much – even suggesting to reach out to Moline and Rock Island.
The board also discussed the possibility of increasing the tax levy, should SB-1 not get through the house and the district needs to finance the next year. Current tax anticipation warrants expire in October, so the board would need to decide by September.
Approved last night was the agreement with Bridgeway for a mental health service pilot program for Lombard Middle School, as was the athletic compensation for 2017/18, tentative budgets for fiscal year 2018 for the district as well as the Galesburg Area Vocational Center.