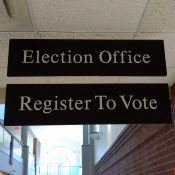 The heads of election commissions across the state will convene in Galesburg for a conference next month. 
Galesburg Election Commission Director Lisa Watson also serves as current president of the Association of Election Commission officials.
Cities with commission in the Association that will be meeting in September include Rockford, Chicago, East St. Louis, Aurora and Galesburg.
Watson explains that election commissions were designed to take elections out of the hands of elected officials and combined these commissions oversee approximately 1/3 of registered voters in the state.
Galesburg and Knox County have the distinction of holding presidencies for both the election commission and county clerks' associations.
"With in the city of Galesburg and Knox County both Scott Erickson and myself are honored to serve and we actually serve the two election organizations for the entire state," Watson says.
About 40 people will be in town for the conference that's set to run from September 13-15.
Some notable speakers for the gathering will be local toastmaster Bobby Dillard, Rep. Mike Fortner and a cyber security expert with the state election center.