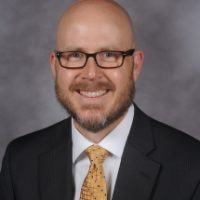 Newly hired District 205 Superintendent Dr. John Asplund is getting ready to start his tenure with Galesburg where he says he wants to spend a lot time listening to the concerns of parents and make changes based on that. He says the one change the district is already looking into is the incorporation of more green energy initiatives that would save the district money down the road, something he helped initiate during his time at Farmington. Asplund tells WGIL that he wrote a grant for the Clean Energy Foundation of Illinois that helped cover a significant portion of the purchase and installation of solar panels for the district.
"Seventy percent of our cost," explains Asplund, "were payed for by the grant and then the district had to pay for the rest but that did produced 756 kilo watts of electricity which is roughly a third of the electricity needed at Farmington and so far that roof mounted structure has saved over $150,000."
He says the grant is no longer available, and what he is considering now is identical to what his former district is looking at – buying solar energy in a lease program. The program would involve allowing a company to install the panels on the property – at no cost to the district, but then agree to buy the electricity from that provider.