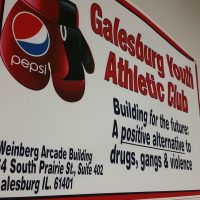 Rock Steady is a boxing-training class coming to the Galesburg Youth Athletic Club to help individuals reduce and reverse the symptoms of Parkinson's Disease. 
Georgia Lepisto, who's husband Dennis is suffering from Parkinson's helped bring the classes to Galesburg. 
Georgia had been travelling with her husband to take classes offered by the McDonough District Hospital and YMCA in Macomb.
"In the four months since we've been going, it's been amazing for Dennis. He has run across the gym, he has jumproped. From the very beginning he saw the other people jumproping and he's tried and  been unable to do it and last week he jumproped," Lepisto says. "Really the purpose of Rock Steady is to help people giving them an avenue to fight back against Parkinson's disease."
Carlos Duncan, Director of the Galesburg Youth Athletic Club tells WGIL that classes are slated to begin on August 21st. 
They will run three times a week: Monday, Wednesday, and Friday. 
To get involved, donate, volunteer, or join, call Carlos Duncan at the Galesburg Youth Athletic Club in downtown Galesburg at 341-07-33.