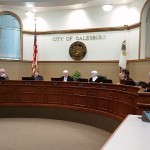 The Defenders of Freedom, an organization that looks to assist local veterans, are having difficulty opening at their location on Broad and Carl Sandburg Drive because of the costs associated with bringing the building to code.Director Bob Spears says the city requires at least $3,000 -$5,000 for a building code study, which Spears says they can't afford.
Alderman and Acting Mayor for last nighst's city council meeting Wayne Allen invited Spears to speak before the council.
Allen asked the council and City Manager Todd Thompson to find a way to help out the Defenders of Freedom, whether that be by granting a variance on the study or other means.
Alderman Jeremy Karlin recommended Spears take the normal avenue for applying for a variance, filling out an application that goes to the overall code review commission.
If an applicant is dissatisfied they can appeal to the city council.
Fire Chief Tom Simkins stepped forward to offer a similar sentiment.
"That's the process that we've always used. I'd ask you to stick with that," Simkins says. "If you don't, it undermines my office and everything we're doing."
Simkins says the city is always out to make sure all people are safe, especially veterans and that's what the code is there for.
Thompson said he would gather additional information for the council, so something could be worked out.