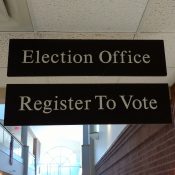 A Certified Election/Registration Administrator, or CERA, is the highest professional achievement for someone in the position. 
Lisa Watson, the Director for the Galesburg Board of Elections has achieved the feat. 
In a statement from the National Association of Voter Registration officials, CERA designation is achieved only through multi-year course study conducted by the Election Center's Professional Education Program. 
It includes completion of twelve core courses taught by the Master's in Public Administration of Auburn University. 
The courses range from voter registration and election law, to ethics, planning, communication, and voter participation. 
In the statement, Tim Mattice, director of the center said, "The Galesburg Board of Elections is fortunate to have Lisa Watson as one of the top designated professionals in America." 
And "Obtaining and maintaining CERA status means she has committed to improve the electoral process in Illinois."