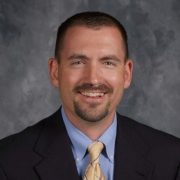 With Governor Bruce Rauner's amendatory veto of SB-1, the evidence based school funding formula, the bill now moves back to the General Assembly where it will be looked at again.
A three-fifths of lawmakers in both chambers must either approve or override Rauner's changes. Both options will be difficult. If neither chamber can muster the votes, the legislation dies.
Knoxville Superintendent Steve Wilder says that districts in the state have been waiting a long time for school funding reform for a while.
He told WGIL that if Rauner had approved of SB-1 Knoxville would have seen more money than before, saying "I've not seen the numbers after the Governor's veto. I can tell you the projection for Knoxville would have been an additional $170,000 just based on the original version of Senate Bill 1."
Rauner used his amendatory veto powers Tuesday to rewrite a bill that overhauls how the state distributes money to schools – objecting to pension help and other money for Chicago Public Schools, calling it a "bailout."