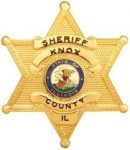 Former Galesburg Police Officer and Military Police Officer, Kip Canfield, has decided to run for Knox County Sheriff. 
Currently, the Director of Public Safety at Carl Sandburg College, Canfield served in the U.S. Army from 1979 to 1982 and served with the Galesburg Police Department – retiring as a sergeant in 2006. Canfield went on to train Jordan, Iraqi, and Afghan military police.
After receiving positive backing from family and acquaintances, Canfield – who is a licensed police officer, made the decision to run for Sheriff in the March primary. Canfield says, "I was approached a year ago, talked with some friends…had some other people ask me about running. My family bought into it. I really believe there's a need in the sheriff's department for new leadership. As this election continues on – there'll be issues coming up, and hoping for a debate coming up. That was my thought process, and the way that I look at what was needed." 
Among other accolades, Canfield headed up the Neighborhood Enhancement Program in Galesburg through the police department as a civilian; and frequently updated the area with Crime-stopper tips. 
Hoping for a debate, now that Canfield has announced is intention to run, the Galesburg native tells WGIL that things are "just getting started…and more issues will come up" as the election approaches next November.