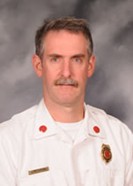 At Monday night's Galesburg City Council work session, Fire Chief Tom Simkins presented the board with some information regarding non emergency Invalid Assists.
Simkins says these assistance calls are usually made to 9-1-1 and sent to the Fire Department to handle. He hope to reduce the call volume by imposing a fee on the few people who do abuse the system – suggesting $75 dollars as an appropriate amount.
He said that invalid assist is the best P-R they do in the community, but over the last four years they've seen an increase in volume – many of which are from the same few people.
The Chief said that the Fire Department sees a large number of calls a year, with an estimated 44-hundred this year – compared to 15-hundred when Simkins said he first started with the department.
He said there are several callers abusing the system, calling upwards of 40 to 50 times a year, and many of the calls don't fall in the scope of work for the department.
Alderman had different reactions to the fees. Russell Fleming thought that there should be no fees and abusers should be fined through 9-1-1, while Angela Bastian suggested more research be done before any action be made.