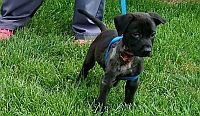 The 17-year-old Kewanee resident accused of causing severe injuries to a six-week-old puppy could end up being tried as an adult.
That's according to a statement from the Henry County State's Attorney. Matt Schutte says Kewanee Police forwarded to him yesterday the police reports filed in the case, and says he will ask a judge to have the case moved out of Juvenile Court and try the teen as an adult.
Despite the name of the alleged offender being spread through social media, since he is not yet being tried as an adult, his name cannot officially be released.
The teen was arrested Wednesday, less than a day after the Labrador Retriever-Pitbull mix named "Thor" was found outside a Kewanee apartment complex with several slashes to his neck area.
The dog was taken to a veterinary clinic for emergency treatment and is now in the care of the Henry County Humane Society Kewanee chapter, and is said to be doing well.
The teen reportedly has confessed to injuring "Thor" and has so far been charged as a juvenile with Aggravated Animal Cruelty.
Since then, petitions have been spread through social media to call for stronger charges against the juvenile, and a number of fundraisers have been organized to help pay "Thor's" bills.
(Photo from Henry County Humane Society-Kewanee)