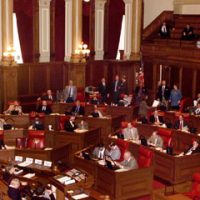 Illinois schools could go without state funding as a new front in the fight between the Republican governor and majority Democrats threatens money for roughly 850 districts.
It's just the latest man-made crisis to hit Springfield. This month lawmakers voted to override Rauner's veto and end a state budget impasse that stretched into a third year.
State Senator Chuck Weaver says because of irresponsibility in the past, Chicago legislators are trying to protect CPS from their own pension problems, and holding the bill hostage.
He said "There is nothing wrong with giving it to him today. He can amendatory veto that – he says he's going to amendatory veto it – and then we can have the negotiation amendment and be done in three or four days. Instead they're pushing us to July 31st, which will delay the August 10th payment the schools are waiting on."
State Senator Jill Tracy says that it is imperative for Senate Pesident John Cullerton releases the bill to the Governor, saying "Right now Senate Bill 1 -which contains school funding – is being held by President Cullerton on a Parliamentarian procedure. I think it's highly influenced by Michael Madigan."
Cullerton says he'll send the bill Monday. Rauner reiterated the call at a Thursday news conference for him to send it immediately.
Democrats for nearly two months have held off on sending a funding bill to GOP Gov. Bruce Rauner because he's pledged to strip money for Chicago Public Schools that he has declared a "bailout."
If lawmakers want to override, they'll need a three-fifths majority vote. If they don't have the votes, the plan dies and questions remain about when schools will get funding.
If the two sides can't reach an agreement, some poorer districts worry they won't be able to keep the school doors open into fall. Legislators return to Springfield Friday, but no movement is expected until at least Monday.