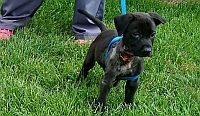 A teenager in Henry County has reportedly confessed to a crime that has quickly gone viral involving a puppy.
Quad Cities television station WHBF reports Kewanee Police have arrested a 17-year-old male and are so far charging him with Aggravated Animal Cruelty.
Pictures spread by the Kewanee branch of the Henry County Humane Society show a six-week-old puppy since named "Thor" with deep cuts in the area of his neck, and officials there are describing it as one of the worst cases of animal abuse they've ever seen.
WHBF reports the puppy was found at an apartment complex on the city's Northeast Side late Tuesday night, and was treated early Wednesday.
Humane Society officials say since he was taken in, little Thor is doing well and, according to their Facebook page, is a very popular patient, but so far will not be put up for adoption.
The alleged attacker's name has not been released, but is believed to be held in the Henry County Jail.
(Photo from Henry County Humane Society-Kewanee Chapter)