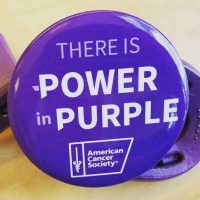 Held at a different time each year, the Relay for Life's Power of Purple is a month-long challenge for community leaders to raise funds and awareness in the fight against cancer. 
The Relay for Life event for Knox County was held in May – but the Relay for Life campaign is a year-round effort. 
Leader Stacy Dutton tells WGIL that this year's first Power of Purple meeting was held July 10th.
"We have two survivors in our group out of four contestants. We gave them a folder of information all about the American Cancer Society, free patient services, where the money goes, any tools they would need to fundraise and get people involved," Dutton says.
There are over 3,500 Relay for Life events around the nation every year. 
What started in 1985, has grown to a global fight-against-cancer cause; with 100% of the donations going towards cancer research and awareness. 
For more information, to join, or to donate, visit Relay for Life dot O-R-G slash knox C-O-I-L.