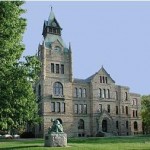 Last night the Knox County Board held their July meeting where they accepted the resignation of board member Michael Nelson, who was resigning due to health concerns.
Nelson, a Democrat from the third district, had been elected to the board in 2016 with his term to expire in 2020. 
Board Chair Pam Davidson told WGIL that the Democratic Party will vote next month on his replacement, but she did say that a candidate had already been chosen.
"The Democratic party have to caucus and we're going to be caucusing in Tara Wilder," Davidson says.
The board approved the re-appointments of Dr. Harold Watters to the Henderson, and Ronald Moody to the Altona Fire Protection Districts.
In addition the board approved the policy of establishing a notary fee of one dollar for the county clerk's office for notary work outside the department's scope of work.