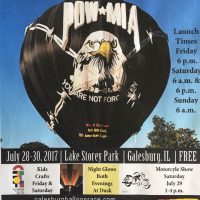 The Great Galesburg Balloon Race essentially started with a local couple's love for ballooning and now is in it's 17th year and with 18 balloons participating.
But as Organizer Greg Saul explains to WGIL ballooning is a hobby that's very dependent on weather.
"Well anything below 10 mph winds or if there isn't a storm within 50 miles we can fly," Saul says.
The night glows at dusk are always a favorite part of the Balloon Race.
Saul says it's essentially where the balloons set themselves up and turn on their burners, which makes for a bright colorful exhibition.
"Basically what I want people to know is if they come out Friday or Saturday night and they see the balloons take off, they're coming back," Saul says. "They'll come back for the night glow so don't leave."
There will also be a variety of activities during the day like the Saturday afternoon motorocycle show, air brush tattoos and parachute races for kids.