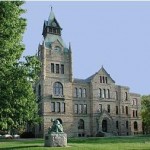 The Knox County Board is meeting tonight for their July meeting where they'll consider the re-appointments of a pair of trustees to area fire protection districts. 
The re-appointments include Ronald Moody to the Altona Fire District, as well as Dr. Harold Watters to the Henderson Protection District.
The board could also approve a policy for requiring either a letter of recommendation, or resume for external board appointments, such as the appointments for fire protection districts.
Tonight's board meeting could also see the board accepting the resignation of one of their own, but no name is listed on the agenda.
WGIL reached out to Scott Erickson, the Knox County Clerk inquiring about the identity of the board member with no response.