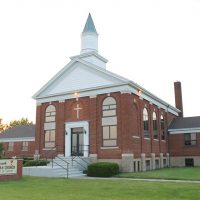 Homemade ice cream has been churned, the pies are being finished, and the Coldbrook Christian Church Ice Cream Social is heading into it's 13th year. 
For the past week, it's been all-hands-on-deck at the church. 
Organizer Marcee Hudson tells WGIL that planning for the social takes committees of people and months of preparation.
"From the planning stages, that starts in the early spring and then we get all our committees formed, that's done probably April everything starts to come together. This is an all church event and we did the making of the ice cream last weekend," Hudson says.
This year, the church as churned out 45 gallons of homemade ice cream. 
Dinner options will also be available, since this year's social is running from 4:30pm until 6:30pm. 
Tickets will be on sale at the door – $5 dollars for adults and children 6 and under are free; with all the proceeds going towards local charities. 
The Coldbrook Christian Church is located where the Cameron Blacktop meets Route 164 between Galesburg and Monmouth.