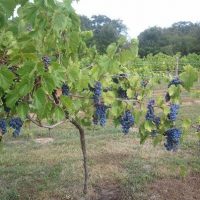 Hidden Hills winery hopes to begin construction in August and be open by Spring 2018.
The trio of owners Holly and Chancey Weidenhammer and David Poland have been working out financing, bulldozing will continue this week and contractors should start construction in the next three to four weeks.
Hidden Hills has grown grapes on their vineyard for about four years, which they've sold to Kickapoo Creek Winery for production.
When harvesting of the grapes occurs this August those will be the first grapes to go into Hidden Hills wine.
"So the grapes will be ready for production in about January or February," Weidenhammer says. "That's why we're shooting for that March-April timeline to open. The grapes that we have grown this year will be the first time we get to use them for our wine which will be wonderful."
Part of their agreement with Knox County when they purchased the land was for the county to finish a road up to the winery's property line.
Holly says the road's been graveled but is unsure when the road will be totally done.
When construction's complete there will be a production room, tasting room and a small gift shop is planned.
Weidenhammer previously made an estimate that Hidden Hills will be able to attract 9,000 visitors annually.