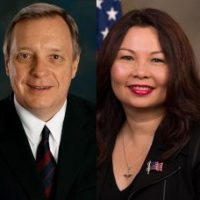 The U.S. Department of Housing and Urban Development has awarded a total of $2,058,130 in grants funding Illinois agencies through the Housing Counseling Grant, and the Service Coordinator Programs. 
U.S. Senators Dick Durbin and Tammy Duckworth announced Thursday that HUD monies will help families, seniors, and people with disabilities who live in insured and assisted apartment housing to live more independently.
Durbin issued a statement saying "These federal programs provide invaluable assistance to those in need and I will continue to fight for them in these times of uncertainty."
Duckworth said, "It's important that Americans who rely on additional assistance at home – including seniors and those living with a disability – have access to the resources they need to live healthy, independent lives."
21 housing service providers are receiving over $1M for the funding for the employment of service coordinator, to assure that elderly and non-elderly residents with disabilities get the specific support services they need.
In Galesburg, Whiting Hall Senior Apartments will receive over $23,000.