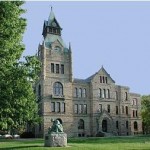 Work is wrapping up on the Knox County Jail, and coming together on the Courthouse.  That was the news delivered to the Knox County Building Committee last night. 
Cody Basham with Klinger and Associates said that new light fixtures in the conference room, and new dimmers switches for the remodeled rooms were what was left to do at the jail.
Basham also indicated that work on the courthouse exterior was coming together,
"The granite treads are to be delivered to Otto Baum this Friday and they're to begin installing them shortly thereafter so that should be happening pretty quickly," Basham says.
The committee discussed the financials of the building fund, as well as the bills needing paid. 
The building fund currently has over 674-thousand dollars, with an estimated 185-thousand dollars in expected bills for work currently in progress.