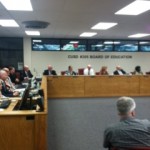 The District 205 Board of Education met last night to discuss, among other things, either videotaping or streaming of board meetings. 
Superintendent Dr. John Asplund stated he was looking for input from the board for a cost effective manner, with board member Vicki Banks suggesting a committee be formed to explore all possibilities. 
Vice President of the 205 School Board, Amy Pickrel, had express concerns regarding photo liability and the streaming of the meetings.
"We all have a waiver we have to check or sign but, I don't want someone to have to be responsible for seeing if that student is permissible streaming video because of all the rights with photo liability so I do want to make that point. Because there's a lot of kids in the district that they're parents don't want them to be seen," Pickrel says.
The board also discussed making a change to the order of the school board agenda.
Discussion started by Dr. Asplund was focused on moving the closed executive sessions up to the earliest part of the agenda, instead of the end.
Then after discussion in previous meetings regarding the overcrowded physical education class sizes in district elementary schools, the District 205 Board heard a suggestion to correct the issue, unable to approve any action last night.
Jennifer Hamm suggested shifting elementary P-E from a daily class to a rotating class that met every third day and in doing so would reduce the class sizes.
One cause for concern was from the Illinois State Board of Education, and meeting their requirements.
She said her and Dr. Asplund spoke with ISBE  and even though they were not in compliance with state law, there would be no financial repercussions.