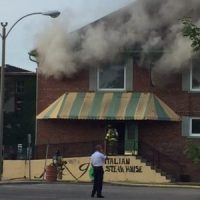 The smell of wood burning filled Downtown Galesburg this morning as fire crews battled a blaze in a restaurant with a rich history.
Galesburg Fire answered a call around 7:09 a.m. to Fig's Italian Steakhouse at 51 N. Prairie St. 
Fire Chief Tom Simkins believed that it was called in by a passerby who noticed smoke.
Simkins hadn't been inside when he spoke to WGIL but said it appeared as though the fire started on the first floor around the kitchen area.
Smoke was "chugging" out the eaves on all four sides which he says happens when smoke fills the cavity of a building and pressure builds. Fire crews cut a hole in the roof to let off some of that pressure.
The fire chief compares it to take a lid off a boiling pot of water to relieve steam pressure. They were able to contain the fire in a matter of a about 30 minutes, possibly aided by a little luck.
We were fortunate that at that time of day we had our shifts coming in to work and our shifts leaving at 7:30 a.m. almost a double shift on duty when the call came in which was very fortuitous," Simkins says.
This building was long ago the Galesburg YMCA and was the home of the Galesburg High School boys basketball team that won the state championship in 1913.