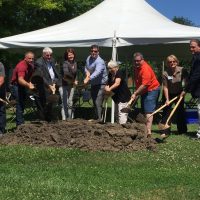 The ceremonial shovels were placed in the dirt Saturday for the first Galesburg home to have its lead water service lines replaced at no cost to the homeowner.
The Illinois Environmental Protection Agency provided Galesburg with a $2 million forgivable loan to start, with another $2 million expected later this year.
Mayor John Pritchard and Congresswoman Cheri Bustos gave brief remarks, with alderman and other officials on hand.
Bustos says in another era Congressman could simply gone to the "ear mark well" for these kinds of projects.
Bustos says her office worked around the clock when news broke in April 2016 that Galesburg had tested about the EPA action level for lead in water.
With the East Moline Democrat's help city staff applied for the EPA loan.
City Engineer Wayne Carl says that money won't go as far as first believed.
He explains to WGIL that the reasoning behind that is related to how unusual it is for a contractor to replace 409 lines at once.
"With the contractors, there's some risk associated. They've got to go into each home, schedule appointments. There is some risk that they could possibly have a leak or they have damage, or anything like that," Carl says. "So there's a little more liability than if they were working out in the street in the public right of way."
The city is also replacing service lines as they repair city streets and Carl says they are committed to replacing all the city's residential lead lines.
About 3,000 of 13,000 Galesburg residential service lines are lead.