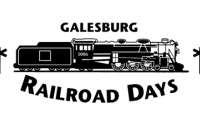 This year marks the 40th year of something that — yes — has changed over the years, but the goal of which has remained the same: providing fun for the whole family.
This is the 40th year for Railroad Days, which activities mostly in downtown Galesburg, but also at places like the Galesburg High School Fieldhouse, Hawthorne Center, and other places.
Opening ceremonies aren't until Friday night, but Galesburg's "Railroad Days" starts Thursday with the opening of the carnival, which is being set up today on the city's public square.
Organizing committee chair Dennis Clark tells WGIL one sports activity won't be going on this year, but plenty of others involving athletic prowess will. "We have a three-point shoot out on the Street of Dreams. That 200 block is just going to be filled with games for kids that can participate with parents and grandparents."
Clark is referring to the "Street of Dreams" being on East Main Street.
Jean Jacobs is on the committee organizing Railroad Days, and tells WGIL there's no reason not to honor the fact that the railroad is kind of a big deal. ".. it's so important. The railroad has a long history here. It's probably one of the biggest employers in the area. I think people just… need to come down to the depot especially.. go through the railroad museum. Learn about the history and what a great part it has played in it and as we are today, and still growing. "
As for the near constant criticism of the event, Jacobs says they're always looking for new committee members and new ideas.
That's in addition to quilt shows, a model train show, photography exhibits, tram tours, and more. You can find a full schedule of events by clicking here.