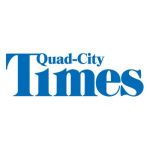 Two newspapers you can find at retail outlets in Galesburg — even though there's likely little if any Galesburg news in them — are about to be owned by the same company, as continued media consolidation continues.
Lee Enterprises — based in Davenport and owns the Quad-City Times — is announcing it will be purchasing the assets of the Moline Dispatch and Rock Island Argus — along with their associated website — in a seven-million dollar deal.
The papers say they will continue to be operated independently, even as the Times publisher will also become the publisher of the Dispatch-Argus. Any loss of jobs at either paper is expected to be minimal.
Lee Enterprises also operates papers like the Saint Louis Post-Dispatch. The Dispatch-Argus is owned by the Small Newspaper Group based in Kankakee.
This latest merger of sorts comes as bids are being accepted for the purchase of the Chicago Sun-Times, despite an agreement by the owner of the Chicago Tribune to purchase the daily.
"The big three" Quad Cities television stations continue to be owned by major broadcast companies, and the owners of WQAD-TV are planning to sell their operations to another major company.