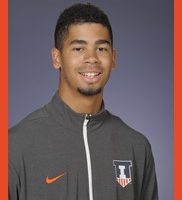 Josh Eiker, a former Galesburg Silver Streak track athlete just finished his first year with the University of Illinois and the school's track team. Eiker spoke to WGIL and talked about the transitions into a division one school, training with people who match his speed or even surpass it, and even adjustments to his diet.
"It's not really that hard to give stuff up," says Eiker, " you just cut if back eventually. I would say probably pop was my big thing in High School and I used to like drinking it but now that I can drink pop it doesn't make my stomach feel very good so I stopped drinking as much."
Speaking on his classes, Eiker said in his first year he took a mix of gen-eds, but also took some classes that helped explore his interests in school. He says he's leaning towards majoring in sports management, specifically he says he's interested in being an athletic director.