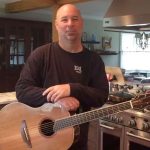 A Christian music artist who has sold more than a million albums globally will be on stage at the First Christian Church tomorrow night.
Mark Schultz has played in Galesburg before.
Nearly ten years ago he played to a packed house at The Orpheum Theatre.
This time the church on the corner of Broad and North behind the 4L Plaza will play host.
Schultz says performing his songs is probably favorite thing to do but lately he's be in writing mode.
He says that makes him all the more excited to get to perform at the church.
When writing he says he can usually tell when it will be a crowd favorite, if it's a song that he wants to play over and over.
He wasn't exposed to "Christian" music growing up much, but his songwriting evolved when he was a youth pastor in Nashville.
After writing a song about a church mission trip or a member struggling with cancer he realized that he was writing Christian music because he was writing about what God was doing in the congregation's life.
Schultz has had several high charting songs in the Christian music charts over the last decade and a half including "Back in His Arms Again" "You Are a Child of Mine" and "I Am the Way".