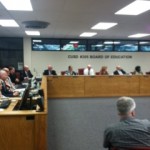 Superintendent Ralph Grimm spent nearly fourteen minutes at Monday night's meeting of the District 205 Board of Education talking about the lack of a state budget in relation to the district's pre-k program.
Grimm restated the frustrations he and others in education feel about the state's inability to pass a budget going on three years now.
The board had recently made significant cuts to the early childhood program effectively eliminating much of it, in anticipation of the state still not passing a budget.
"If push comes to shove we would only offer the special ed portion of the early child program and it would be a very late decision on if we could offer the rest of the program," Grimm says.
Grimm said the board needs come to a decision on the rest of the early childhood program so that parents can be informed early enough to make arrangements. 
He again called for parents to reach out to their state representatives to urge them to pass a meaningful budget, saying that "encourage our parents to contact the legislators and let them know that this is totally unacceptable."