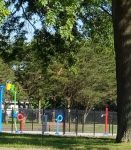 Rotary Park will be available for public use tomorrow after an eight month closure for improvements.
Over $700,000 in improvements in fact. A spacious walking trail, a rain garden, new playground equipment are a part of the new look.
Also perhaps appropriate for this weekend is the new splash-pad water spray area for kids on a weekend that has forecasts of sunny skies and highs in the 90's.
The work was done at no costs to Galesburg citizens. The Galesburg Rotary and Pilot Clubs raised around $300,000 for the work and the other $400,000 came from an Illinois Department of Natural Resources grant.
That grant came about 2 years late due to the seemingly endless Illinois budget impasse. Galesburg Parks and Rec Director Tony Oligney-Estill says the delay caused the project to add about $80,000 in expense.
An official ribbon cutting ceremony will take place next Saturday at 10 a.m. at the park's shelter.
Whenever you make it to Rotary, there should be ample parking.
Two lots were added, one with 24 spaces on the South end of the park and another 6 on the North side.