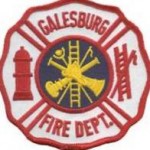 There appear to be only a few minor injuries after firefighters extinguished a blazed at an apartment building last night on the 100 block of North Chambers.
Just after 11:30 last night Galesburg Fire received a call from patrons from a nearby bar.
When Galesburg Police arrived on scene they reported seeing smoke emanating from three sides of the building.
One tenant was extricated from the downstairs through the front window.
He suffered cuts and abrasions for which he was taken to Cottage Hospital along with a second occupant for evaluation.
Firefighters located the fire in a common storage on the lower level, near the building's rear.
Once it was located the fire was extinguished in about 2 minutes according to Fire Chief Tom Simkins.