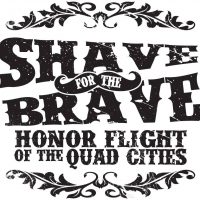 Shave for the Brave's third annual Beards and Brews is going on this weekend at the Knox County Fairgrounds in Knoxville.
Shave for the Brave is a platinum sponsor for the Honor Flight of the Quad Cities, which sends local veterans on all-expenses-paid trips to Washington D.C. to visit the monuments and give the veterans the welcome home they deserve.
Crystal Wilson, President and Co-Founder of Shave for the Brave told WGIL that they're still accepting both men and women to participate even if you don't want to lose any hair.
"All you have to do is raise $100 and we will get you on that stage and we'll trim your beard, we'll shave it," Wilson says. "If you want to give us some money and not shave, I'm not saying you're not going to get booed. Girls can even participate. We have four girls cutting four inches or more off of their hair."
Wilson says that there will be four different bands playing including The Rockin' Papas and Staggard, she says there will be additional entertainment as well.
The event kicks off at four p-m, with contests running from four to eight and the event is free to attend.