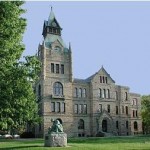 A Galesburg man will be going to prison after Knox County Circuit Court records indicate he took a plea deal in a felony weapons case.
20-year-old Demetri Collins was sentenced to three-and-a-half years in prison after pleading guilty to a single charge of Possession of a Weapon by a Felon. In exchange for the plea, other felony weapons charges were dropped, as were counts of Resisting Arrest and Obstruction of Justice.
Collins was arrested in mid-March following a traffic stop. He is believed to have had a stolen weapon on him at the time.
Collins must serve half of his sentence before he can be released from prison, but could instead be taken into a Department of Corrections Impact Incarceration program, also known as boot camp.