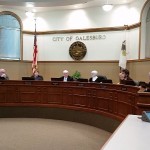 Target could be getting their liquor license tonight.
On final reading for tonight's Galesburg City Council meeting is to give the city's 31 Class C liquor license to the Galesburg branch of the retail chain. 
Target stores across the nation have been increasingly entering into alcohol sales.
Also tonight Alderman could approve a $350,000 bid from Halverson Construction, already busy with several city road projects, to reconstruct Silver Street from Main to Summit.
Five bids were received according to city documents with Halverson coming in the lowest.
This work will start in the fall and is funded through the 2016 GO Bond Capital Improvement Fund.
Council could also approve Ameren adding a gas regulator station east of Logisitics Park on the north side of U.S. 150.
Ameren has requested a 15 by 15 foot easement from the city.