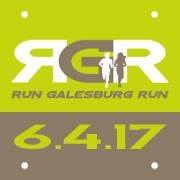 You could not ask for a better day for the 6th annual Run Galesburg Run. 
Temperatures at the start of the event reached the low 70s with plenty of sunshine yesterday morning.
Runners competed in the one mile in downtown, the 5K which took runners to Cottage Hospital, and the half marathon which saw runners traversing across the Lincoln Park Drive Bridge.
For male runners, Evans Kiprotich finished the half marathon with the fastest time of 1 hour 11 minutes and 24 seconds, while Amanda Yeoman finished with the fastest time for the famales with a time of 1 hour, 38 minutes, and 40 seconds. 
In the 5K Andrew Welch had the fastest time for men, with just shy of 18 minutes at 17:54, and for women Ellie Pinzarrone had the fastest time of 20 minutes and 3 seconds.
In the one mile Ruben Henderson clocked the fastest time for males with a 5-45 mile, over a full minutes faster than the next runner; and Kadynce Lydic took the fastest mile for females with 7 minute 22 second.