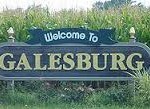 The Farnham Street Bridge is getting a makeover and tonight residents have the chance to be among the first to see what it will look like.
The City is holding a public open house at The OAKS on Farnham tonight from 5 to 7 to view drawings, maps and aerial photography.
City staff as well as reps from Terra Engineering, the contractor approved for the job, will be there to informally answer questions and record public comments.
Right now it is anticipated that work will actually get underway in February 2018 and be finished 6 months later in August.
Don't be overly concerned if that's a normal route in your daily routine.
A release from the city says that traffic will be reduced to one lane at all times but a total closure of the bridge is not expected.