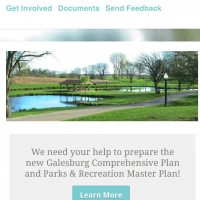 Galesburg alderman went through a workshop last night to gauge their views on aspects of the city's parks and recreation department.There will be a number of surveys, workshops and focus group Houseal Lavigne Planning Associates will do in the coming months to get input from a wide array of citizens.
Last night though city council members gathered in the Erickson Conference Room at City Hall answered things like if money was no object what you like Galesburg to have and what current assets does the city have that we don't want to lose.
Some of those assets alderman came up with were Lake Storey, Standish Park Arboretum, and a municipal golf course in Bunker Links.
HL reps also gave a presentation on the website designed to get residents involved in the planning process.
To learn more about the parks and rec masterplan and to find out how to give your input go to hlplanning.com/portals/galesburg or it can be found by going to the City website.