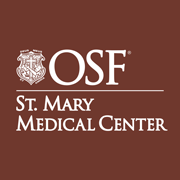 The main lobby of OSF St. Mary Medical Center in Galesburg will be closing down as construction will begin on a remodel Wednesday, May 31st.
The project intends to be completed by the end of 2017 and aims to create a more efficient flow for patients and visitors while also creating a more open and healing environment.
The information desk will be temporarily relocated to the Emergency Department hallway with directional signs located placed onsite to assist patients and visitors to find their destinations inside the hospital.
According to a press release from OSF HealthCare, the existing canopy and vestibule will be removed and replaced with a larger vestibule and airlock, to limit the infiltration of air into the lobby.
The existing women's restroom is also to be converted into a family restroom and a new women's room will be built out of a previously occupied administration office.
In addition the vestibule will have glass walls for greater visibility and new canopy will extend over the drive and drop lane and feature glass at it's center to allow natural light to enter.
The remodeled lobby will feature new finishes, new information and pre-registration desks.