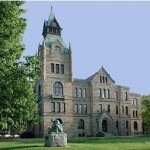 Memorial Day is a National Holiday to honor those who have lost their lives while serving the United States in the armed services.
Galesburg will once again pay tribute with a parade in Downtown Galesburg this morning.
The parade will end at the Knox County Courthouse where like in year's past there will be a ceremony where the names of veterans who have passed away in the last year will be read.
Among those names to be read is the man who opened the ceremony last year, Vietnam veteran Mike Lummis.
The Galesburg Memorial Day Parade is organized by the local VFW.
Parade marchers are lining up along North Seminary today and will head west down Main and turn on to Cherry Street, where they will end at the courthouse.
Memorial Day came along shortly after the Civil War, being first observed in 1868.