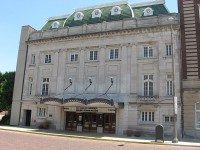 Throwback Thursdays will once again be on the big screen at the Orpheum Theatre this summer. They kicked the series off last week with the movie, "Big" but it was also revealed what the other seven films this summer will be. Executive Director Kevin Maynard explained that they wanted to follow a theme of largely showing movies that reflect the 60 or so years the theatre operated regularly as a movie house.
The line up for the series is as follows; Charlie Chaplin's The Kid June 15, Disney's Snow White – June 22, Casablanca – June 29 and High Noon on July 6. On the back half entering the modern era July 13 is The Beatles in A Hard Day's Night. At that point TBT will take about a month off while Prairie Players production of "Oklahoma" is rehearsing, building and performing. The last two movies in August are Rocky on August 10 and Men in Black on Aug 17. Maynard says with a new sound system and projector, watching movies at the Orpheum might never have been sweeter.
"Before, because we have so much light control," explains Maynard, "we were able to operate on about a 2,000 lumens projector. So we went from 2,000 lumens to about 12,000 lumens so it's a huge jump and it's full HD.
All Throwback Thursday movies are free and open to the public.