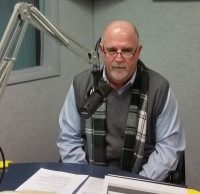 District 205 Superintendent Ralph Grim is wrapping up his school administrative career next month and voiced his frustrations with the state of Illinois' lack of a budget. Grimm told WGIL that proration of school funding is a cut that takes away opportunities from students. He says that over the course of his 33 years in education he has worked with one goal in mind and doesn't understand how things have gotten to this point with the state.
"It boggles my mind," says Grimm, "every morning when I get up that we're in this state. I never thought that for ninety percent of my career I would work to build things for kids, improve opportunities for students, improve things for teachers and the community in which I serve, and then the last three, four, or five years tear those things apart."
Grimm says his plans to retire but still be involved having been approached to consult with education and work with some regional offices of education on a part-time basis. He also says he plans to spend time with his three sons, work around the house and squeeze in some golf.