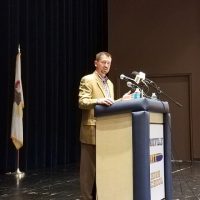 It wasn't just local school district superintendents who got the chance to give local lawmakers an earful at the state capitol Wednesday about the state budget impasse and districts being in the same funding situation now that they were in a year ago. Some students got to go as well.
One of them is recently-graduated Galesburg High School student Tavian Cervantez.
"I graduated on a temporary budget, as if education of our students is a problem that is to be swept under the rug," Cervantez says. "Education, as they say, is the key to the future; and right now, it seems as if it's being put on the back burner."
Cervantez says he, other students, and even educators met a year ago to try and better understand the school funding situation, and he says now he's come full circle, and the funding situation is too much like a dog chasing its tail.
Local superintendents want residents to write and call not only their local lawmakers to try and get a budget passed, but also legislative leaders and Governor Bruce Rauner.