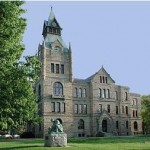 Last night the Knox County board approved the appointments of the 708 Mental Health Board, but not without it's own controversy. 
Concerns were raised by District Four board member David Erickson, as well as other members that the board was not informed or a part of the interview process.
"Based on what I see, and knowing some of the other applicants, and now how the process has worked out… and since we do have time to appoint the board, I'll be voting no because I don't think the process was completely open or fair to all applicants — the way it was carried out," said Erickson.
Out of 22 applicants who submitted resumes, only 6 were selected, interviewed, and then recommend for appointment. Erickson spoke on that as well saying, "I'm not calling into question any of the six-seven people you've selected. What I'm questioning is the process. In fact, we should have seen… all of the applicants."
Talk of tabling the discussion took place, but a big concern of many of the members was the time restrains put on the board by the state statute. According to the state, the county has 60 days after the certification of the referendum to appoint the 708 board. In order to table discussion the board would have to hold a special meeting before the next regularly scheduled meeting in order meet the 60 day deadline to make the appointments.
In the end the appointments were approved to make up the committee for the Knox County 708 board of mental health with members Erickson, Jared Hawkinson, and Bob Bondi voting no, and Sara Varner abstaining.
The full 708 board of mental health includes:
Knox County Board Member Richard Conklin
Tasha Easley
Carol Maloney
Greg Bacon
Steve Watts
John H. Schlaf
Luke Raymond
___
The Board also approved:
The hiring of Rodney Cleair as the new landfill administrator. Cleair had been the superintendent at the Mary Davis Home.
The appointment of Don Moffitt as a Knoxville Fire Protection District Trustee.
The nursing home's purchase of a new bus for $53,921
New union contracts with Patrol Unit and Landfill