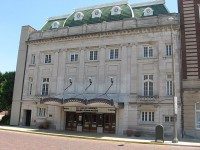 Throwback Thursday movies are returning to The Orpheum Theater starting tomorrow.
Just like in past years the movies are all free of charge and will last through the summer on most Thursdays.
Orpheum Executive Director Kevin Maynard says this is the 4th year of showing classic movies on Thursdays in the summer.
Not every Thursday will be thrown back though, as the theater still has shows and rehearsals this summer going for Choral Dynamics and the Prairie Players presentation of Oklahoma.
After the showing of the Tom Hanks classic "Big" tomorrow the summer roster of movies will be announced, Throwback Thursday will take a break until it kicks off again June 15th.
Maynard says this is the first summer the Orphuem has had their new projector and sound system. He says they went from a 2,000 lumen projector before to 12,000 lumen making film viewing in the theater now "very nice" according to Maynard.
While he wouldn't go into detail about what other movies will be showed he says they will adhere to a certain theme.
In the spirit of coming off of the Orpheum's Centennial celebration, the movies will be from the era the Orphuem regularly showed movies, from 1920 to 1982.