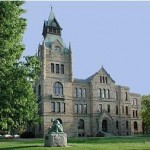 A traffic stop by Galesburg police resulted in the vehicle's passenger facing felony weapons charges.
Knox County Circuit Court records indicate 45-year old Aaron Frazier made an initial court appearance Monday on a charge of Possession of a Weapon by a Felon, and will be back in court for an appearance with an attorney Wednesday.
Police stopped a vehicle Frazier was in Saturday night near Main and Arthur in the city's western end reports indicate Frazier admitted to having hidden a nine-millimeter handgun under the front passenger seat.
Frazier remains jailed on 50-thousand dollars bond and has been granted use of a public defender.