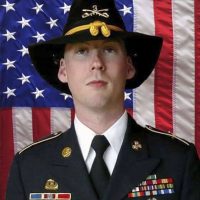 A 14 mile stretch of highway that runs north south from Farmington to Canton is one step closer to being named after a local fallen soldier.
The Illinois House passed a joint resolution last Wednesday to name the highway stretch the "Sgt. Douglas Riney Memorial Highway" by a unanimous vote.
The measure now heads to the Senate.
Riney was a native of Fairview Illinois, about 10 miles from Farmington.
He died in October 2016 as a result of hostile enemy fired sustained in Kabul, Afghanistan.
Riney entered the service in July 2012 as a petroleum supply specialist and in his tenure was awarded the honors of Purple Heart, Bronze Star and Army Commendation Medal just to name a few.
He was survived by a wife and two children.
If the resolution is passed it would direct IDOT employees to erect appropriate plaques and signage to designate the highway as the "Riney Memorial Highway."