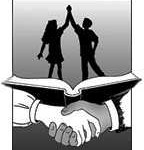 The District 205 School Board have a number of items on the agenda for their regularly scheduled meeting tonight, although it's the third time they've met this month.
Among the items that will be discussed will be amending the FY17 budget.
That report could serve as the most recent indication of how severe the impact of state's failure to pass a budget is having on Galesburg schools.
They'll also talk about the job description of Elementary Dean.
Debbie Cratty assumed this role last year but was approved as K-5 Special Ed Coordinator for Galesburg for next year.
With no final decision coming tonight District 205 will also talk about waivers for students who wish to attend a school other than the one that corresponds to their home address.
Final readings will come tonight for approving a district attorney and architect.