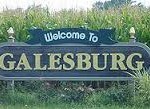 Contractors working on the East Main Street Underpass finished up an intense but crucial 48-hours of work last night at 10 p.m.
Galesburg Director of Planning and Public Works Wayne Carl said on Tuesday at 10 p.m. the contractor started a 48-hour work window in which the western most track was cut before the installation of a new bridgeThere were some shifts in personnel during the 48-hour period but some workers have worked through.
Even brief rain and heavy winds Wednesday didn't deter the process.
Carl says there's been a ton of train traffic during this period.
He'd estimate over 70 passed with in the first day.
Carl says the contractors had to closely coordinate with BNSF for the whole project but particularly in this 48-hour period.
"BNSF basically tells them what they think would be the best chance for them to install the beams with the lowest train volume. In this case it didn't seem like the lowest train volume, but it was scheduled weeks ago. The contractor has to submit a schedule for the time period broken into 15 minute increments," Carl says.
The contractor had to excavate around piling they have been driving, then placed precast concrete piling abuttments on top and then the piling was welded to the bottom of the concrete abuttment cap.
Beams had already been assembled and those were lifted into place with a crane.